We have continued to receive a number of kind offers of assistance both from in Japan and abroad. On the back of such support, we are determined to take steps forward together, in order to regain our hometown, "Sendai, the City of Trees" and to create a city full of hope—one that is more safe and secure than ever before.
Click the link below to view a video of Sendai's restoration.
PR Video of Sendai's Restoration (This is a link to sendaitabibiyori's channel on YouTube: The video will open in a separate window.)( External link )
Steps toward recovery and restoration (full list)
Friday, February 3, 2012
"Sendai-no-Yube 2012," Sendai Exchange Party and the Sendai Philharmonic Orchestra Concert"KIZUNA."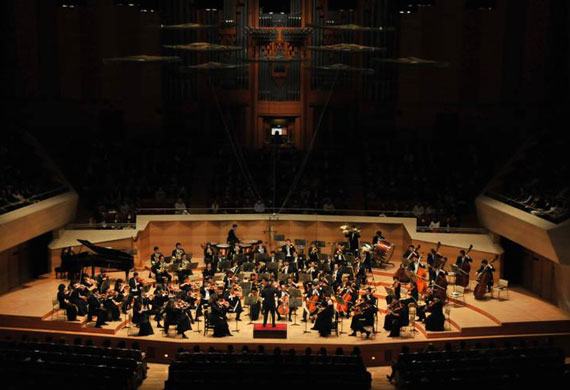 Sendai City and Sendai Chamber of Commerce and Industry jointly organized the Sendai-no-Yube 2012, Sendai Exchange Party at the ANA Intercontinental Hotel Tokyo to promote Sendai City in Japan's Metropolitan areas.
This year, we invited approximately 700 guests from private companies, organizations, and administrative agencies in various metropolitan areas to offer warm thanks for their great assistance following the Great East Japan Earthquake. Mayor Okuyama gave a presentation on disaster damage and the current state of reconstruction in Sendai. Sendai's local delicacies such as beef tongue, fresh seafood, and rice cakes topped with sweet green been paste were offered. The performance of "Date Bushotai (Date warriors)" and the presence of Zanma Eriko, a famous producer, originally from Sendai infused the event with energy.
After the party, the Sendai Philharmonic Orchestra Concert "KIZUNA" was held at the Suntory Hall near the hotel. In holding the event, we hoped to express our heartfelt gratitude for the great assistance we have received after suffering from the Great East Japan Earthquake.