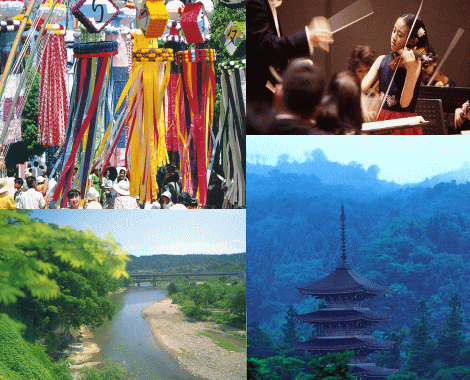 Overview of Sendai City
Sendai is a city with a population of one million, and is the political and economic center of Japan's Tohoku(northeast)Region. Although Sendai is a large city, it is known throughout Japan as a modern city in harmony with nature. The city possesses beautiful scenery, such as the Hirose-gawa River that runs through central Sendai, and the lush zelkova trees that line its streets. Greenery is especially abundant in the center of the city, which has tree-lined streets and parks. As a result, Sendai is called the "City of Trees."
Sendai has many universities and is also well known as an academic city. Its universities and research institutes have been contributing to the development of the high-tech industry.
Sendai also values history and culture. Many traditional events, such as the Sendai Tanabata Festival, continue to this day. The Sendai International Music Competition and the Johzenji Streetjazz Festival are also held in the city, along with many theatrical performances.
We invite you to discover Sendai, a modern city that retains its natural beauty and tradition.
Sendai's Location in Japan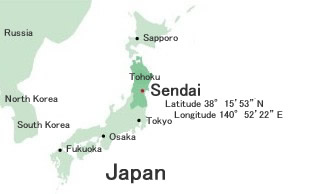 Sendai is located approximately 300 kilometers(180 miles)north of Tokyo on the Pacific coast of Honshu (the largest of Japan's four major islands). Sendai lies in the center of the Tohoku(northeast)Region, one of the seven major regions in Japan.
It takes about 1 hour and 40 minutes to reach Sendai from Tokyo on the Tohoku Bullet Train(Tohoku Shinkansen).Sendai also has regular flights to and from major domestic and international cities.
Mild Climate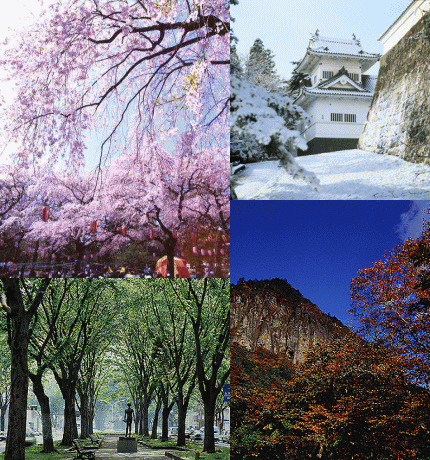 Sendai shares the same latitude as Washington D.C., the capital of the United States, and Athens, Greece. Sendai enjoys a very comfortable and temparate climate compared to other cities in Japan. Its average temperature is 12.1ºC and its annual precipitation is 1,241.8 mm. The hottest month is August with an average temperature of 24.1°C; the coldest month is January with an average temperature of 1.5°C. The splendor of each of the four seasons can be experienced and enjoyed in Sendai. The city's autumn colors and snow-covered landscapes in the winter are especially beautiful, and people enjoy magnificent scenery in both downtown Sendai and the nearby mountains.
A City in Harmony with its Surroundings
Sendai is a modern city in harmony with nature. The city is surrounded by a splendid natural environment, from the western Ohu Mountains to the eastern Pacific Ocean. Areas north and south of the city are agricultural areas that produce some of Japan's best rice. The city itself is full of nature and greenery. Many parks and streets are lined with zelkova trees, and the clear waters of the Hirose-gawa River flow through downtown Sendai. Although the Hirose flows through a major city, it is known to be a beautiful river with extremely clean water, and ayu (sweetfish), which only live in clean water, are known to travel up the river.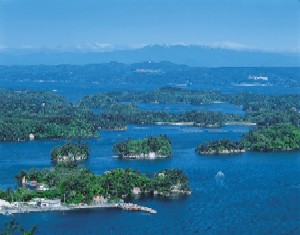 (JPG:570KB)
Matsushima
Matsushima Bay, dotted with many islands covered with pine trees, is located approximately 30 km from Sendai. It is known as one of Japan's three most scenic locations. Matsushima is a haven from the Pacific Ocean's harsh waves and is also famous for its oyster farming.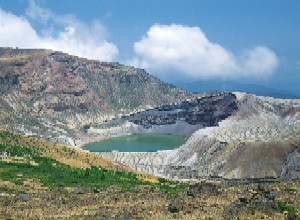 (JPG:690KB)
The Zao Mountains
A one-hour drive from Sendai takes you to Mt. Zao, a collection of several age-old volcanoes. Near its summit, you can enjoy a pleasant walk around the Okama, a crater lake known for its ephemeral colors. Mt. Zao is also famous for the snow monsters(frost covered trees)that can be seen during the winter. The snow monsters are created when fine snow and ice stick to Abies mariesii(maries(#8217; fir)trees. The result is a piece of natural artwork, a product of the unique winter climate of the area. The snow monsters are especially beautiful in the beginning of February.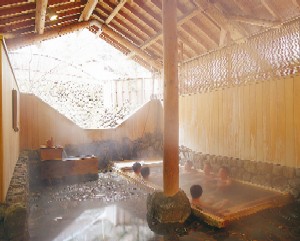 (JPG:552KB)
Hot Springs
Akiu and Sakunami are both hot spring resorts near downtown Sendai. A 30-minute drive takes you to these resorts, which boast many hotels and traditional Japanese inns(ryokan)that offer comfortable big baths among the beauty and tranquility of the mountains. Some traditional inns have baths located outside, where you can relax while enjoying the views of the stars or the snow.