[Date of Affiliation] March 9, 1957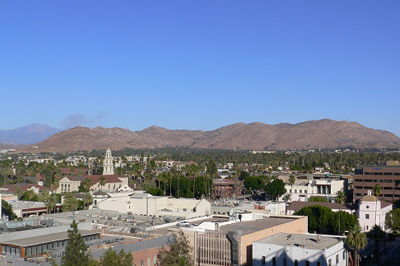 Reason for Affiliation
Members from the Association of University Women of Sendai sent flowers to an injured American soldier at the Sendai American Military Hospital on Mother's Day in 1951. This information was relayed back to the soldier's mother who was a member of the same association in Riverside. This event eventually led to the establishment of the sister city relationship between Sendai and Riverside.
Overview
Riverside is a city situated to the west of Riverside County. It is located in the center of Southern California and is about one hour from Los Angeles by car. Riverside is a city rich in history and has a successful citrus industry. The city's continuing economic growth is apparent in its booming retail and entertainment venues. It is also known as a city of higher education and serves as the research hub of Southern California. The current population is approximately 300,000.
Brief History
1774 A soldier from the Spanish Army led an exploratory expedition to find a good route from Arizona to Monterey through the Riverside area.
1838 The first farm land in Riverside County was established.
1862 Flooding devastated the area.
1871 Riverside was founded.
1873 Two Brazilian navel orange trees were received. The trees thrived in the Southern California climate and the navel orange industry grew rapidly.
Major Facilities
(Education)
University of California, Riverside, Riverside Community College, Sharman Indian High School(largest public school for Native Americans) etc.
(Culture and Arts)
Ben E. Lewis Hall, Riverside City Museum, and Riverside County Philharmonic
Japanese
Photos
Official Website of the City of Riverside(External link)